With around 7.000 students, 113 laboratories and 820 faculty and staff members, the University of Cyprus (UCY) based in Nicosia, the capital of the Republic of Cyprus, is a modern, diverse, and evolving student-centered institution established only three decades ago.  Aspiring to function as a beacon of scientific thought, diversity, inclusiveness, equity and creativity, UCY envisions its future as a leading institution in the greater Euro- Mediterranean area.
UCY is a rapidly expanding university and the biggest employer in Cyprus for young graduates and researchers. It currently employs about 700 young scientists using external research funds. Its 8 faculties and 22 departments offer a range of undergraduate and postgraduate programmes, whilst its numerous, highly cited researchers give UCY a cutting edge.  All programmes of academic study function under the European Credit Transfer System (ECTS), furthermore awarding the Diploma Supplement with DS Label.
UCY students can benefit from its state-of-the art infrastructure, affordable tuition fees, student support services, scholarships and a high employability rate after graduation both in Cyprus and abroad.  They can learn Greek at the School of Modern Greek, as well as Spanish and Chinese at the Aula Cervantes at UCY and the Confucius Institute at UCY, respectively.  UCY students benefit from lower prices for public transportation, their participation in student clubs and in international conferences, while they have the opportunity for part-time employment.
International Outlook
UCY is globally networked and actively contributes to European and international scientific developments.  UCY's involvement in the international arena is many-folded.  
UCY:
maintains strategic cooperation with top institutions internationally through the signing of Bilateral Agreements of Cooperation (https://newdev.ucy.ac.cy/ir/bilateral-agreements-of-cooperation/), which provide for the exchange of students and staff, organization of conferences, research cooperation and the provision of joint programmes.
is an active member in more than 65 international university networks and associations (at both institutional and departmental level) (https://newdev.ucy.ac.cy/ir/networks-associations/)
is a member of the university alliance YUFE (Young Universities for the Future of Europe) (https://www.youtube.com/watch?v=U8VmnGhYM0E&feature=youtu.be) with 9 other European universities. YUFE is one of the 17 alliances of European universities selected by the European Commission in 2019, to develop and implement the first models for a unified European University.  
has been participating in the ERASMUS+ Programme since 1998.  Until now, more than 2500 UCY students have spent 1 or 2 semesters at European universities, and more than 2100 incoming students have spent 1 or two semesters at UCY.  Currently, UCY has around 730 Erasmus Bilateral Agreements with universities in Europe. UCY also participates in the Erasmus+ International programme that supports cooperation for mobility with third countries.
Dear all,
Did you know that the Graduate School of our University has announced new positions for Master and PhD programmes for the Spring semester 2024?

Our online application system has been open since October 2nd and it will remain as such until Tuesday, 31st October 2023 (12 noon)!

If you are interested in taking your next academic step, then don't delay it!

Follow this link,  and find all the information you need here, as well as the online application
 For clarifications, you may contact us:

 +357 22894044

 fgs@ucy.ac.cy
FACULTY OF HUMANITIES
English Studies
French and European Studies
Turkish and Middle Eastern Studies
MEDICAL SCHOOL
FACULTY OF PURE AND APPLIED SCIENCES
Biological Sciences
Mathematics and Statistics
Computer Science
Physics
Chemistry
FACULTY OF SOCIAL SCIENCES AND EDUCATION
Education
Social and Political Sciences
Law
Psychology 
GRADUATE SCHOOL
FACULTY OF ECONOMICS AND MANAGEMENT
Business and Public Administration
Accounting and Finance
Economics
FACULTY OF ENGINEERING
Architecture
Electrical and Computer Engineering
Mechanical and Manufacturing Engineering
Civil and Environmental Engineering
FACULTY OF LETTERS
Byzantine and Modern Greek Studies
History and Archaeology
Classics and Philosophy
Programmes of Study Taught in Foreign Languages
BAs
English
French Language and Literature
Modern Languages and European Studies
Masters (MAs, MScs, MEngs)         
MSc in Digital Heritage and Landscape Archaeology
MA in Field Archaeology on Land and Under the Sea
MA in Teaching English to Speakers of Other Languages (TESOL)
MA in Theoretical and Applied Linguistics
MA in European Studies
MA in Peace, Conflict and Democracy
MSc in Biodiversity and Ecology
MSc in Biomedical Sciences
MSc in Molecular Biology and Biomedicine
MSc in Artificial Intelligence
MSc in Data Science
MSc/MEng in Civil Engineering – Novel and Traditional Construction Materials
MSc/MEng in Civil Engineering – Construction and Transport
Infrastructure Management MSc/MEng in Civil Engineering – Geotechnical Engineering
MSc/MEng in Civil Engineering – Structural Analysis and Earthquake Engineering
MEng in Natural Gas in Energy Transition
MSc/MEng in Mechanical and Manufacturing Engineering
MSc/MEng in Computer Engineering
MSc/MEng in Electrical Engineering
MSc in Intelligent Critical Infrastructure Systems
MSc in Advanced Materials and Nanotechnology
MSc in Precision Medicine in Clinical Practice
MSc in Monetary Financial Economics
MSc in Behavioural Economics
MSc in Human Resource Management
MSc in Economic Analysis
MSc in Data Science
MBA in Business Administration
MSc in Business Economics (Technology, Innovation Management, and Entrepreneurship – TIME MBE)
MA in European Studies (French/Greek/English)
MA in Teaching French as a Foreign Language (French)
PhDs   
PhD in Digital Heritage and Landscape Archaeology
PhD in Linguistics
PhD in English Literature and Comparative Cultural Studies
PhD in Translation Studies
PhD in European Studies
PhD in Biodiversity and Ecology
PhD in Biomedical Sciences
PhD in Civil Engineering
PhD in Advanced Materials and Nanotechnology
PhD in Mechanical and Manufacturing Engineering
PhD in Electrical Engineering
PhD in Computer Engineering
PhD in Business Administration
PhD in Economics
PhD in European Studies (French/Greek/English)
PhD in French Studies
Joint Master Programmes  
European Master in Classical Cultures
European Master in Human Rights and Democratisation
MA in Education Policies for Global Development (GLOBED) Erasmus + Mundus
MSc in Cognitive Systems
CHOOSE UCY BECAUSE OF…
World-recognised Programmes
High Caliber Academic Staff
High-end Research on a wide spectrum of scientific areas
High Employability Rate: Around 82% of alumni are currently employed on a full-time basis.
Diversified Curricula: Portfolio of courses ranging from Humanities and Letters to Engineering and Applied Sciences
International outlook: Cooperation with international institutions, student/staff exchanges through the Erasmus+ Programme and the signing of Agreements of Cooperation, active participation in European and international networks/associations
Centre for Entrepreneurship connecting students with industry
State-of-the-Art Campus and Facilities: access to the latest technologies and resources, including the "Stelios Ioannou Learning Resource Centre-Library"
Student Employment Opportunities
Exciting Student Life
Location: Cyprus is at the crossroads of 4 continents having one of the warmest climates in Europe
UCY is considered the leading university and the most active research institution in Cyprus. UCY implemented a large number of research projects funded by the European Commission, the national Research and Innovation Foundation and several public and private Research Organizations. In 2021, research funding from external sources reached €27 million. UCY is currently participating in 373 projects. 184 are EU-funded projects under Horizon 2020, Erasmus+, Justice, Life, Cost Action and Interreg.
Within Horizon 2020 program, UCY ranks 1st in Cyprus with 154 research projects and with a total funding of over €75,4 million from January 2014, the start date of H2020 program until May 2022. UCY ranked 137th in securing funding among the nearly 41,200 organizations participating in the Program and 98th among all the academic institutions involved. This is an honorable distinction for UCY since it surpasses, in absolute numbers, other famous and much larger universities of Europe. In general, UCY excelled in all pillars of H2020 program. Since 2017, UCY secured 3 Teaming in Excellence projects (for the development of independent research centres aiming at becoming Centres of Research Excellence), two of these three grants are worth €15 million each.
UCY ranked 1st in securing funding in the pillar "Spreading Excellence" from all organizations from the 27 WIDENING countries. Under this pillar, UCY secured 23 research projects with total funding of € 28.9 million (3 Teaming Phase 2 - € 23 million, 7 Teaming Phase 1 - € 1 million, 1 Era Chair - € 2.5 million, 4 Twinning - € 1.6 million and 8 Widening Fellowships - € 1.227.529).
Since the establishment of European Research Council (ERC) in 2007, UCY managed to win 20 ERC projects. More specifically, it was awarded 7 Starting Grants, 4 Consolidator Grants, 2 Advanced Grants, 6 Proof of Concept Grants and 1 Synergy Grant. These numbers are very impressive due to the fact that ERC funds only top researchers in Europe with excellence as the sole criterion for selection, helping them pursue great ideas at frontiers of knowledge.
Currently, UCY implements 28 Marie Sklodowska-Curie Action projects. Apart from Individual Fellowships, it participates in ITNs, RISE and on Cofund Action. UCY has successfully implemented 68 Marie Skłodowska-Curie projects.
A considerable share of the University's external funding comes from the Cyprus Research and Innovation Foundation (RIF), where UCY was awarded a significant number of research projects, under the "RESTART 2016-2020 Programme for Research, Technological Development and Innovation". From the beginning of 2017 until May 2022, UCY secured over 220 research projects with total funding of over €36 million. These funded projects include New Research Infrastructure Units, large scale Integrated Projects with big consortia, cutting-edge Research Excellence projects and Post-Doctoral Fellowships.
UCY Research Centres https://ucyweb.ucy.ac.cy/research/en/research-centres-laboratories/research-centres-and-research-units
Archaeological Research Unit
Centre for Medieval Arts and Rituals (CeMAR)
KIOS Research and Innovation Center of Excellence
FOSS Research Centre for Sustainable Energy
Nireas International Water Research Center
EMPHASIS Research Centre
Center for Applied Neuroscience
Center for Field Studies (UCFS)
Research Centre for Gender Studies
Oceanography Centre
Biomedical Engineering Research Centre - BERC
Economics Research Centre
Center for Banking and Financial Research
Molecular Medicine Research Center - CY-Biobank
Rankings 2021-2022
Academic Ranking of World Universities: #501-600
Times World University Rankings

#401-500 Times Higher Education World University Rankings
#64 Emerging Economies University Rankings
#84 in the Top 200 World Universities under 50 years old Category
#195 in the Top European Universities
#126-150 Education
#126-150 Psychology
#201-250 Clinical Medicine and Health Science (2022)
Explore rankings data for University of Cyprus
All ranked institutions have an overall score and 4 pillar scores. However for each pillar, only institutions ranked in the top 500 overall or the top 500 in this pillar have a publicly visible score
Key statistics
20.0

No. of students per staff

(1)

14%

Percentage of International Students

(1)

61 : 39

Student Ratio of Females to Males

(1)

6,907

Number of FTE Students

(1)
Video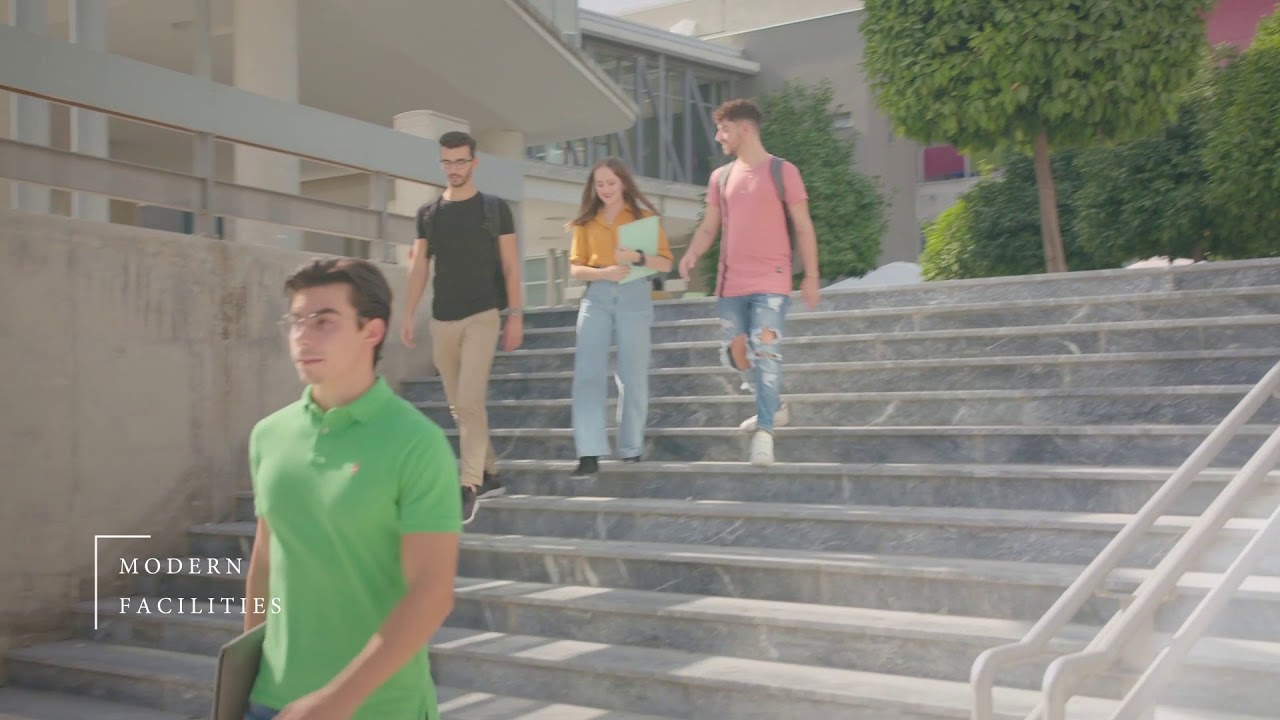 Subjects taught at University of Cyprus
Engineering & technology

Civil Engineering
General Engineering
Mechanical & Aerospace Engineering
Electrical & Electronic Engineering

Business & economics

Economics & Econometrics
Accounting & Finance
Business & Management

Arts & humanities

Architecture
History, Philosophy & Theology
Archaeology
Languages, Literature & Linguistics

Physical sciences

Chemistry
Mathematics & Statistics
Physics & Astronomy
Geology, Environmental, Earth & Marine Sciences

Law

Education

Computer science

Social sciences

Politics & International Studies (incl Development Studies)
Communication & Media Studies
Sociology

Clinical, pre-clinical & health

Life sciences

Psychology