RCSI University of Medicine and Health Sciences
201–250th
World University Rankings 2023
101–200th
Impact Rankings 2023
123 St Stephens Green, Dublin 2, Dublin 2, Ireland
RCSI University of Medicine and Health Sciences is an innovative, independent, not-for-profit Irish university, dedicated to education, training and research in medicine and health sciences.  We are the home of Ireland's largest medical school and the largest clinical simulation facility in Europe.
Founded in 1784, to set and support professional standards for surgical training and practice in Ireland, our university has seven schools offering undergraduate and postgraduate degrees and professional qualifications aligned to Ireland's national framework of qualifications. We are home to numerous healthcare institutes as well as leading research centres driving pioneering breakthroughs in human health. Located in the heart of Dublin, with international campuses in Bahrain and Malaysia and a student community of over sixty nationalities, we have an international perspective on how we train tomorrow's clinical professionals today.
RCSI is ranked Top 50 in the World for goal 3 "Good Health & Wellbeing" by the Times Higher Impact Ranking (2022). We continually invest and commit to ensuring our education and research responds to the needs of society and is focused on improving the lives of people and communities around the world.
A deep professional responsibility to enhance human health through innovation and collaboration in education, research and service informs all that we do. We welcome students and researchers into programmes of academic excellence and a lifelong community of colleagues that is clinically led, nurturing and supportive, enabling them to realise their potential to serve our global patient community.
We remain committed to institutional independence, service, academic freedom, diversity and humanitarian concern. Our independence enables us to chart our own course in service of excellence in human health. Placing the patient at the centre of all that we do, our values of Respect, Collaboration, Scholarship and Innovation continue to unite and direct our purpose.
RCSI degrees are accredited via our compliance with the national qualifications agency Quality and Qualifications Ireland (QQI) as well as professional regulators across each discipline.
Research and innovation
RCSI is home to numerous health sciences research collaborations and centres with leading research minds driving pioneering breakthroughs in human health.
Our research is focused on translational research: clinical, laboratory-based and health service research informed by bedside problems and societal and global health challenges. It is focused on innovative research that leads to improved diagnostics, therapeutics and devices; tackles important healthcare delivery issues; informs policy and clinical practice and enhances the quality of education of healthcare professionals.
As an exclusively health sciences-focused education and research institution with strong links to acute hospitals, RCSI is uniquely placed to develop and enhance research for the benefit of patients and to improve human health. Our strategic research themes include:
During the period 2017 – 2021, RCSI affiliated researchers collaborated with over 3,700 international academic and industry institutions, producing over 5,900 publications and generating 85,000 citations (source: SciVal 2017-2021 July 2022).
Students attending RCSI experience a city campus which exudes diversity and a vibrant  intercultural atmosphere.
RCSI is a truly unique international education institution with an impact reaching far beyond the ancient front doors of our headquarters at 123 St. Stephens Green. Our staff, students and researchers strive to fulfil our mission 'to educate nurture and discover for the benefit of human health'.
Your journey
At RCSI, we offer five internationally-recognised undergraduate degree programmes; Medicine, Graduate Entry Medicine, Pharmacy, Advanced Therapeutic Technologies and Physiotherapy, across three schools.
We also offer flexible and multi-disciplinary taught postgraduate programmes from certificate to masters level. Programmes including Nursing, Surgery, Medicine, Ethics, Human Factors, Positive Health, Healthcare Leadership and Management provide the skills you need to develop as a leader in your chosen field. Innovative research programmes at PhD, MD, MSc or MCh level offered at RCSI help to drive research discoveries for the benefit of patients.
All our students have the best possible learning experience. You are at the centre of all our programmes and our curricula are innovative, future-focused and integrated. During your learning journey, we work together with you to help you achieve academic success.
All our curricula have an intensive focus on acquiring excellent clinical and communication skills and understanding the central tenets of personal and professional identity formation. Our students are taught by award-winning RCSI academics, clinicians and researchers.
We follow a positive education approach. This combines the science of positive psychology with teaching best practice and encourages and supports students, allowing them to flourish. Our approach to learning actively promotes positive growth, resilience and well-being.
When you study at RCSI, you work alongside students across the key disciplines of Medicine, Pharmacy, Physiotherapy and Advanced Therapeutic Technologies. This allows for the development of inter-professional collaboration techniques and practices which will prepare you for professional experience in your chosen field upon graduation.
In our undergraduate Medicine programmes, you will begin interacting with patients in the first few weeks and will take part in immersive clinical placements. You will also develop your research skills and take part in exciting and engaging research projects, including the Research Summer School. Celebrating our commitment to valuing the expertise and perspectives of our students, RCSI School of Medicine has recently been named joint winner of the prestigious 2022 ASPIRE to Excellence Award for Student Engagement.
Extracurricular programmes like the RCSI Student Engagement Programme (StEP) allow all students to work with our staff on bespoke projects to drive positive change throughout the university. You also have the opportunity to collaborate internationally and undertake electives involving direct patient clinical care in some of the world's leading hospitals.
We pride ourselves on our global approach to education, promoting mobility and global citizenship in everything we do. Postgraduate students are provided with numerous funded opportunities to travel to other universities and global healthcare settings, as well as collaborating with industry. Our medical graduates are extremely successful in progressing to postgraduate training outside Ireland and enjoy consistently high 'match rates' for residency places. Last year, our match rate for the US National Resident Match Programme was 91% and the Canadian equivalent was 71%.
Our city-centre campus is located right in the heart of Dublin and is built to meet the needs of current and future students. RCSI's flagship 26 York Street building is home to the main RCSI library, and to the most advanced clinical healthcare simulation centre in Europe. This is an award-winning teaching, research and recreational facility spanning 10 floors.
RCSI students enjoy many opportunities to get involved in university life, participate in sports and fitness activities, create memories, and make friendships to last a lifetime. There are lots of extracurricular activities to choose from at RCSI, as well as our campus fitness centre and gym catering to all students.
Your future
Our number one priority is helping you to build your career and to realise your potential as a healthcare professional. We pride ourselves on producing graduates who are both knowledgeable in the science of their discipline and highly-skilled practitioners and researchers. All our programmes focus on ensuring that you possess the knowledge, skills, self-awareness, professionalism, resilience and leadership qualities needed to excel when working in a clinical or scientific environment on graduation.
As an RCSI student, you have access to our Career Development service. This is available to you from the moment you become an RCSI student right up to three years after you graduate, and it encourages you to build your competitiveness for professional training from day one. Our programme is divided into three stages: career discovery, career choice and career readiness, each stage has associated activities and learnings to ensure that you have the confidence and tools required to put your career strategy into practice.
RCSI is an ambitious institution and we shine on the global playing field. That's why so many international students choose RCSI. We're proud to have over 60 countries represented in our student body and 28,000 Alumni from 98 different countries. Meeting people with diverse cultures and backgrounds gives you an international perspective and invaluable insights in an increasingly global landscape, further preparing you for your chosen career.
10 reasons to study at RCSI
1. We are focused exclusively on the health sciences and we have a unique surgical heritage.
2. You will study in the most advanced clinical healthcare simulation and experiential learning centre in Europe.
3. We lead pioneering research and you will be exposed to research opportunities alongside leading research minds across the spectrum of clinical and biomedical research.
4. We have a global impact in enhancing human health and we are recognised for our educational excellence.
5. You will enjoy a vibrant student life and will make friendships to last a lifetime.
6. You will be part of an international community with 28,000 Alumni from 98 different countries.
7. All our programmes have innovative curricula with a focus on career readiness, personal and professional identity through interwoven themes of professionalism, resilience, wellbeing and leadership.
8. On clinical programmes, you will experience early clinical exposure and heavy involvement in teaching from clinicians.
9. You will receive careers and professional supports extending from individual advice to careers symposia and flexible mentorship programmes.
10. We are located at the heart of Dublin city centre, an English-speaking European capital city.
Visit rcsi.com/dublin to find out more about studying at RCSI, Dublin.
Employing over 1,100 staff from over 45 nationalities, RCSI provides an exciting and challenging environment for committed and talented people to pursue their career with one of Ireland's leading higher education institutions dedicated to medicine and health professions education and research.
RCSI is a truly international institution, headquartered in Dublin with two medical schools in Malaysia (Perdana University-RCSI in Kuala Lumpur and RCSI UCD Malaysia Campus (RUMC) in Penang), an Institute of Leadership in Dubai and a Medical University in Bahrain.
RCSI is passionate about sourcing, attracting, engaging, developing and retaining the best people for all of our campuses globally. With an international presence across three continents, career opportunities may arise in RCSI academic, research or professional positions for suitably qualified health professionals, researchers or scientists.
Explore rankings data for RCSI University of Medicine and Health Sciences
All ranked institutions have an overall score and 4 pillar scores. However for each pillar, only institutions ranked in the top 500 overall or the top 500 in this pillar have a publicly visible score
Key statistics
70%

Percentage of International Students

(1)

24.2

No. of students per staff

(1)

2,563

Number of FTE Students

(1)

55 : 45

Student Ratio of Females to Males

(2)
Video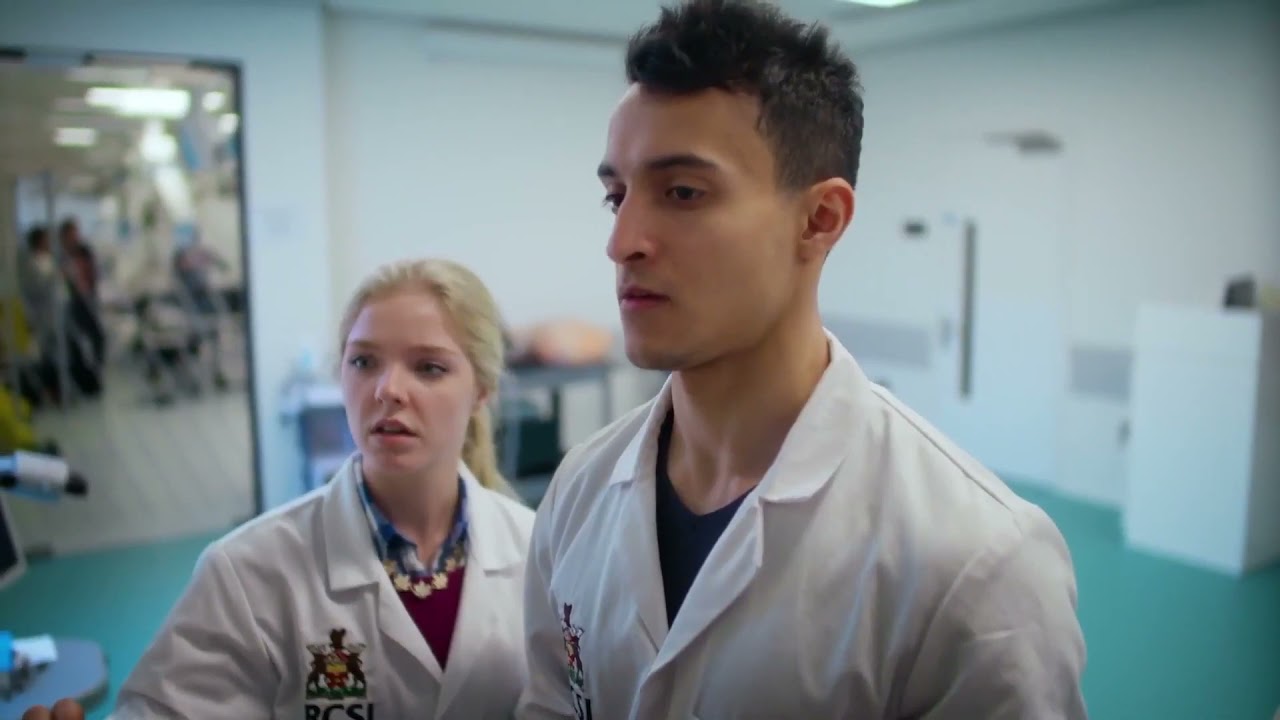 Subjects taught at RCSI University of Medicine and Health Sciences
Clinical, pre-clinical & health

Other Health
Medicine & Dentistry