McMaster University
=103rd
World University Rankings 2024
33rd
Impact Rankings 2023
151-175th
World Reputation Rankings 2022
1280 Main Street West, Hamilton, Ontario, L8S 4L8, Canada
Since 1887, McMaster University has been dedicated to the cultivation of human potential, a commitment we demonstrate everyday through our ground-breaking approaches to teaching and learning and our world-class, interdisciplinary research.
One of only four Canadian Universities consistently ranked in the world's top 100, McMaster has a proud tradition of academic and research excellence, evidenced by the achievements of our best and brightest whose ranks include three Nobel Prize winners, global business leaders, technological innovators, prominent politicians, public intellectuals, philanthropists and performers.
A one-hour drive from Toronto and a one-hour flight from major American hubs New York City, Washington D.C and Chicago, our campus is located in the heart of one of the most vibrant and multicultural regions of North America.
The McMaster community includes 21,441 undergraduate students, 3,519 graduate students, 1,413 full-time faculty and 170,654 alumni, based in 137 countries worldwide.
Ground-breaking teaching and learning
In addition to McMaster's renowned medical school, our professional schools in the Faculties of Engineering and Business are complimented by our commitment to teaching and research in the Faculties of Humanities, Social Sciences and Science.
Our Research strength
Home to some of the best minds and laboratories in the country, with research output rivalling universities more than twice its size, McMaster has a well-deserved reputation as a hotbed of discovery and innovation and is consistently ranked among Canada's top research intensive universities.
From combating disease to informing public policy, reducing environmental pollutants and manufacturing the next smart car, McMaster students and researchers are working collaboratively, across disciplines to address the most urgent needs in our society, improving quality of life, productivity and developing opportunities for communities across Canada and the world.
Thinking globally
With students and faculty from well over 90 countries worldwide and 70 international exchange agreements in place, we celebrate diversity and welcome international perspectives. We are the only Canadian host site of a United Nations University (The Institute for Water, Environment and Health- UNU-INWEH) and are committed to engaging in issues that affect not only Canada, but the world.
Contact Links
Office of International Affairs (http://oia.mcmaster.ca/)
Research at McMaster (https://www.research.mcmaster.ca/)
DeGroote School of Business (http://www.degroote.mcmaster.ca)
Faculty of Engineering (http://www.eng.mcmaster.ca)
School of Graduate Studies (http://graduate.mcmaster.ca/)
Explore rankings data for McMaster University
All ranked institutions have an overall score and 4 pillar scores. However for each pillar, only institutions ranked in the top 500 overall or the top 500 in this pillar have a publicly visible score
Key statistics
30.9

No. of students per staff

(1)

22%

Percentage of International Students

(1)

56 : 44

Student Ratio of Females to Males

(1)

28,254

Number of FTE Students

(1)
Video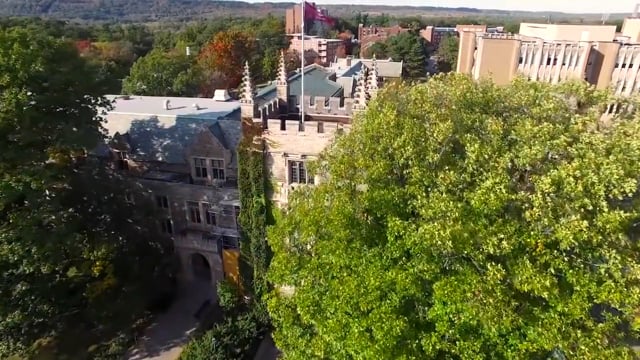 Subjects taught at McMaster University
Clinical, pre-clinical & health

Other Health
Medicine & Dentistry

Physical sciences

Physics & Astronomy
Geology, Environmental, Earth & Marine Sciences
Mathematics & Statistics
Chemistry

Business & economics

Economics & Econometrics
Business & Management
Accounting & Finance

Social sciences

Politics & International Studies (incl Development Studies)
Sociology
Geography
Communication & Media Studies

Engineering & technology

Mechanical & Aerospace Engineering
General Engineering
Civil Engineering
Chemical Engineering
Electrical & Electronic Engineering

Arts & humanities

History, Philosophy & Theology
Art, Performing Arts & Design
Languages, Literature & Linguistics
Archaeology

Life sciences

Biological Sciences
Sport Science

Psychology

Computer science